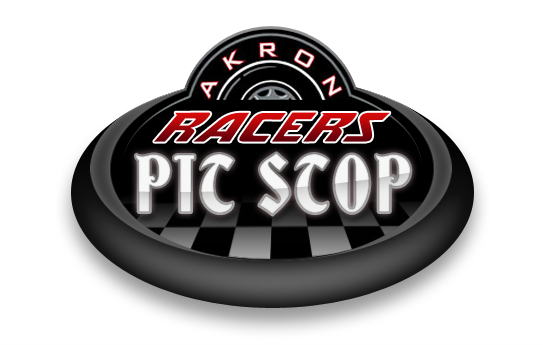 Pause for a quick Pit Stop with the Akron Racers
Welcome to Pit Stop, a special feature where we slow things down in the offices of the Akron Racers and give you a chance to learn more about the people off the field and behind the scenes in the Akron Racers organization.
Meet Sean Waple, the 25 year old University of Akron graduate charged with heading up the Racers' Promotions for the 2012 season. Sean enjoys long walks through the downtown University of Akron campus, sipping sodas while watching sports and he can cook.
Take a read and learn more about Sean . . .
Pit Stop With The Racers
Do you play a musical instrument? If so, what is it?
The recorder, professional since 4th grade.
What sport are you best at?
What is your favorite TV show?
What are your 3 biggest pet peeves?
People who don't clean up there mess, people who talk while eating, people who don't answer my texts in a timely manner.
Where did you go to college & what did you study?
University of Akron – Sport management
Tiffin University – Master's of business administration in sport management
3 dogs: Taz – Rottweiler, Bentley – puggle, Natty – chiapom (Pomeranian Chihuahua mix)
Where do you see yourself in 5 years?
Working for marketing and promotions in the NBA.
How did you get started working in sports?
I have been playing sports since I was 5 years old and always knew if I wasn't going to play professionally then I was going to work in sports. Being Italian I only grew to 5 foot 9 so I had to chose the work in sports aspect. I started at Akron and interned for the Akron Aeros and now I am here with the Racers.
Do you have any hidden talents?
I am pretty good at gymnastics for some odd reason.
What famous actor would play you in a movie?
Where is your favorite place to vacation?
Anywhere in Florida, been there the past four springs.
Do you have any weird habits?
I have a morning routine where I brush my teeth and wash my face as I'm walking around the house. I constantly play with my hair when I am out because I think it is messed up. It is weird because I always have short hair so its never messy.
Who have you met that is famous?
LeBron James, Josh Cribbs, Peyton Hillis, Colt McCoy, Brady Quinn, Kellen Winslow Jr., Mike Brown, Daniel Gibson, Mark Price, Craig Ehlo, Jalen Rose, Willie Mcginest,
Everything they sell at Express.
Aside from working with the Racers, what is the best job you've ever had?
Working for my dad at yacht clubs in Mentor, Ohio. It was a summer job but I was outside all day and the pay was good.
If you weren't working in sports, what would you want to be doing?
Probably doing some sort of strength and conditioning training.
Favorite restaurant in Ohio?
Favorite 2011 Racers memory?
What are you most looking forward to during the 2012 Racers season?
Bringing excitement to the Akron locals and gaining experience in the promotions field.
NPF Championship Series – Who is in it, who is winning it?
5 things most people don't know about you:
I hate bees. I have a 15 year old brother. I wear a size 11 shoe. I had braces for 5 years, I wasn't born with these beauties I call my teeth. I like listening to symphonies to help me relax before big moments like games or tests.
Baseball, Basketball, Football.
Finish this sentence: Growing up my fantasy job was:
Growing up my fantasy job was being Preston from Blank Check.
My favorite bands/singers/musicians are?
Eminem, T.I., Young Jeezy.
|
Back to index...