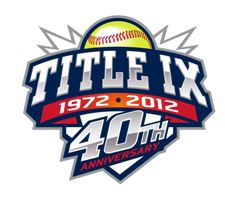 SOUTH AKRON — On June 23, before a game against the Chicago Bandits, the Akron Racers will host a 40th anniversary celebration of the passage of Title IX at Firestone Stadium.
According to the Racers, Title IX states: "No person in the United States shall, on the basis of sex, be excluded from participation in, be denied the benefits of, or be subjected to discrimination under any educational program or activity receiving Federal financial assistance."
Akron Racers President and General Manager Joey Arrietta said Title IX has provided the "gift of opportunity for girls and women."
"It has provided the chance to learn the values of competition, teamwork and sportsmanship," she stated. "But, more importantly, it has opened the door to educational opportunities that have led to an improved presence of women in the work force. Whether it is on the diamond or in the boardroom, women have been given a chance to contribute their intelligence, their talents and their time to improving the lives of millions of individuals worldwide. Title IX opened that door and gave new meaning to 'dinner at the plate.'"
On June 23, the Akron Racers will honor 40 publicly nominated female fastpitch players, coaches and administrators on the field prior to the start of the ballgame.
"It is a unique opportunity to be a part of the national celebration of Title IX," Arrietta said. "We wanted to illuminate the rich tradition of the game and the key role Northeast Ohio has played in the game at all levels."
Read the rest of this article here.