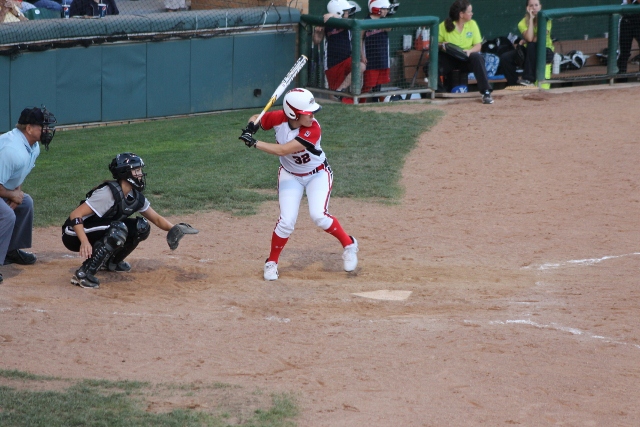 Score: Racers 3 , Bandits 2
Records: Racers (6-11), Bandits (13-4)
Winning Pitcher: Hillary Bach
Losing Pitcher: Nikki Nemitz
Box Score: http://www.pointstreak.com/baseball/boxscoretext.html?gameid=80322
Photo: Brianna Hesson
Hesson blasts off, snapping six game skid for Racers, 3-2 over Bandits
Rosemont, Ill. - July 5, 2012 - With two runners on and no outs, Racers' first baseman Brianna Hesson ended the offensive struggles for the Akron Racers, blasting a three-run home run over the right field fence to give the Racers a 3-2 lead in the top half of the seventh inning.
Hesson's bomb and strong pitching by Hillary Bach closed things out for the Racers, earning the 3-2 victory and snapping the six game losing streak to earn their sixth victory on the year.
Lisa Norris took to the circle for the Racers as the starter. Through four innings of work Norris had allowed three hits and two runs (one earned). Norris ran into trouble in the bottom of the fifth when with the bases loaded and two down she faced off against Bandits pitcher Nikki Nemitz. Norris buckled down, ending the threat with a pop out to right field, stranding three Bandits on the base paths. Norris was replaced in the sixth inning by Hillary Bach.
The Bandits opened the scoring in the bottom half of the second inning when Amanda Williams dropped a bloop single down the left field foul line to score Tammy Williams for a 1-0 lead.
Chicago struck again in the bottom half of the third inning when Amber Patton came around to score after an Alisa Goler double to give the Bandits a 2-0 lead.
The Racers struggled to put hits on the board, getting just one hit (Nicole Pauly) through the first five innings.
Hillary Bach entered the ballgame for the Racers in the bottom of the sixth inning. Norris' night was ended after five innings of work, two runs allowed (just one earned), three hits, three strikeouts and four walks. Bach made quick work of the Bandits, getting a 1-2-3 inning to get the Racers back up to the plate in the top of the seventh. She closed out the game in the bottom of the seventh, earning her second career victory and a Racers win.
For more information about the Akron Racers visit www.akronracers.org or call 330-376-8188.
About the Akron Racers: The Akron Racers, headquartered in Akron, OH, are the oldest existing team in the National Pro Fastpitch (NPF) league. The Racers competed in the Women's Pro Softball League (WPSL) for two seasons in 1999 and 2000 and in the NPF since 2004. Historic Firestone Stadium is home to the Racers and numerous amateur events at all levels of play. The Racers kick-off their 11th season of play in 2012. www.akronracers.org
About National Pro Fastpitch: National Pro Fastpitch is headquartered in Nashville, TN. The league, created to give elite female fastpitch players the opportunity to pursue a professional career in their chosen sport, has operated since 1997 under the names of Women's Pro Fastpitch (WPF) and Women's Pro Softball League (WPSL). NPF is the Official Development Partner of Major League Baseball in the category of women's fastpitch softball since 2002. www.profastpitch.com