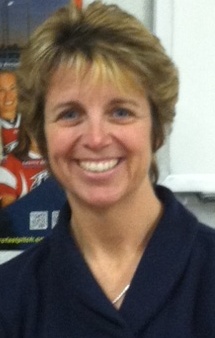 Akron, OH…The Akron Racers Foundation's, President, Joey Arrietta announced today that Lisa Simpson will join the Foundation's staff as the new Amateur Event Director. Simpson, a 13-year veteran of the National Softball Association's personnel, will direct the amateur tournaments, including high school, youth, and travel ball events conducted at Firestone Stadium. Simpson will a have a full plate of duties come April as 80 high school teams will make their way to historic Firestone Stadium to compete in four consecutive weekend events.
"I am thrilled to have Lisa join our fulltime staff. She has great organizational skills and has worked well with our staff for several years to oversee our NSA tournaments. The Firestone Stadium will be a busy place this coming summer and we are excited to have such a well trained professional to work with us on our amateur event schedule," commented Arrietta.
Simpson leaves Revere High School after serving as an Intervention Assistant and Head Softball Coach since 2009. Lisa also served as the Head Coach at Cuyahoga Community College from 2004-2010.